Timothy Williams
has scored numerous feature film including Tom Hanks produced World War II documentary, called
Beyond All Boundarie
, the
Red Sky
and the
Walking with the Enemy
. He also composed musics for various theme parks (like Disney's Aladdin and Universal Studios Japan's The Wizarding World of Harry Potter), musicals, and collaborated with Tyler Bates from Slither till
Guardians of the Galaxy
. We had a chance to ask him about the latest projects and other things as well.
One of your latest projects was the Red Sky action movie. How did you get this assignment?
I had scored two films for the producer, Russ Grey:
The Mullberry Tree
and
Star Crossed
. He brought me to the attention of the other producers and the director Mario Van Peebles, which lead to being asked to score this jet fighter based action picture.
It is always a lot of fun to score action thriller films, however while Mario Van Peebles loved the action cues, he also wanted to make sure the score was emotional and not just slamming ariel fight sequences. The film is being released by Buena Vista and the soundtrack by Lakeshore Records.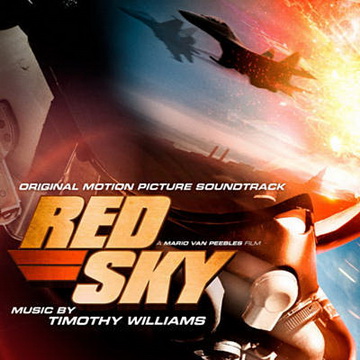 How involved are you in the production of the soundtrack CDs?
When you score a film, you are writing music that underscores a scene. The music can be very specific to the events in the film. When you listen to a soundtrack, you are not watching the movie. In releasing the album, I wanted to make it a good listening experience so I edited and remixed the music specifically for the album. Hopefully it will be an exciting listening experience.
You work many times together with Tyler Bates (for example 300, Conan the Barbarian, Halloween, Sucker Punch etc.). How did this collaboration start?
I have enjoyed working with Tyler Bates for over 10 years now. He has taught me so much about film scoring. He is more than just a client, he is very close friend.
Tyler was my neighbor, so we met literally at the bottom of our driveways, when we had both just moved into our houses. I was doing a lot of large orchestral work for Disney which he heard coming over the fence, and I heard his amazing score cues coming from his side of the fence!
I began to orchestrate for him on
Slither
, a James Gunn film, which lead to
300
and every orchestral film since then. The nice thing about working with someone for that long, is you get a great understanding of their sensibility. We have a shorthand that helps when you are under deadlines or a tight turnaround.
You co-written the video game score of Rise of the Argonauts with Bates. What was your job in this production?
Rise of the Argonaughts was an ancient world video game. We used large orchestra, ethnic and period instruments and percussion, specialised singers to create an ancient world landscape.
Your latest work with Bates was the new Marvel-movie, the Guardians of the Galaxy. What were the recording sessions like?
Guardians of the Galaxy
was recorded over 6 days, including choir and an 83 piece orchestra. The lineup for strings was 30 Violins, 12 Violas, 12 Celli and 10 Bass. The Brass was 4 Trumpets, 8 French Horns, 5 Trombones and 2 Tubas. The Tuba also plays this amazing instrument called a Cimbasso, which is great for low brass stabs.
What kind of pressure have you when you working a blockbuster like this?
There is always a lot of pressure when you are working with a large orchestra at Abbey Road, as the cost of the studio and players is high. You have to be absolutely prepared. There is a limited time to get a lot of music so it is a challenge!
Please, turn back to the beginning. Could you tell me a bit about your music education and what made you choose the world of film music?
I grew up with a love and passion for film music. The scores that really grabbed me were scores by
Jerry Goldsmith
,
John Barry
,
Bernard Herrmann
,
Gabriel Yared
and
James Newton Howard
. The idea of telling or supporting a story through music fascinated me. I began studing piano and composition at age 6. I originally persued a career as a concert pianist, but became more and more drawn to composition. I studied in England at the National Film and Television School, and further at UCLA Extension and the ASCAP Film Scoring Workshop.
You work on the music of the Napoleon musical, which was a very big success – you nominated for a Dora Award for Best New Musical – and a few years later you make a rework. Could you tell us about the composition and the recording of this score?
Prior to film scoring, I wanted to write a musical that would play in London's West End Theatre District.
Napoleon
took around 5 years to write and was orginally staged in Canada at the Elgin Theatre in Toronto by John Wood. I reworked it for London with Gale Edwards and Francesca Zambello and it opened in 2000 for a six month run at the Shaftesbury Theatre. It was an amazing experience to be in the West End and for me a dream come true.
You work also the Scoring a Hit!. In what ways do these kinds of jobs differ from that of the movies?
In Music Theatre, the song is the center of attention and has to carry the listeners attention. With film you are supporting the story, but you never want to overwhelm or steal focus from the story. So the approach is very diferent between the two. That said, there are often times in film where you move from song to underscore and so it is helpful to have a good understanding of both.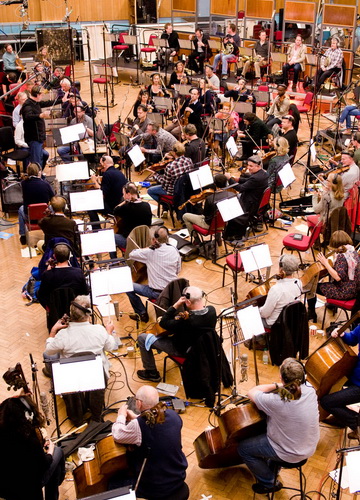 You orchestrated many other composer's work. How did you get into orchestration? Do orchestrators lend their own voice to a piece?
When I first moved to Los Angeles, my first assignment was to orchestrate a live theme park version of
Aladdin
for
Alan Menken
at Disney. I began to orchestrate for various people in town, and after the film
300
, the request for orchestration work took off.
I orchestrate very specifically for each composer, as each composer has a unique voice. Often each project has a unique voice as well, so I try to capture and enhance the vision of the composer. I love working with other composers as I always learn something new and the collaborative process is something I enjoy. That is the best part of music – you never stop learning!
If I know right, your's first movie was the The Moment After II: The Awakening in 2006. How did you get this assignment?
This was a Sony film which I scored. I knew the director and he was a fan of the work I was doing. I used a solo vocalist (Tata Vega) and did a lot of vocal improvising with her to create a palate to use over the score.
Your first collaboration with director Mark Schmidt was the Walking with the Enemy. You made a wery strong and pathetic score what recorded in the Abbey Road. How did you start, how did you build up the mood and the instrumentation of this music?
Walking with the Enemy
is a phenominal film about a Jewish Hungarian man who disguises himself as a German officer during WWII to help get the Jewish population out of Hungary. It is based on a true story. It was a great honor to score it and amazing to record it at Abbey Road. Hopefully I did the story justice!
I wanted to have a theme for Elek that would work both in a heroic way, but also in a tragic way. It is a heart wrenching story and I wanted to bring a more period and emotional feel to the score. I focused on the Cor Anglais and the Solo Cello as the way to express the pain.
What's was your favorite moment during the scoring of Walking with the Enemy?
My favorite scene is where Elek is finally fully committed to his cause and starts seizing trucks to free the Jewish people. His theme becomes big and bold and builds as the numbers of freed people grows and grows.
An other determinated war-project was the Beyond All Boundaries. How did you decide on the instrumentation and the mood?
Beyond All Boundaries
was an amazing film, produced by Tom Hanks, starring Tom Hanks, Brad Pitt, Elijah Wood, James Cromwell, Jesse Eisenberg and Tobey Maguire. Again, it was an epic war film, so I wanted a sweeping orchestral score, which we recorded at the Eastwood Stage at Warner Brothers. I used the solo cello and clarinet at the key instruments for the emotional sections.
Your work also two Playmobil-adaptation: the Quest for the Golden Scepter and the Secret of Pirate Island. Latter is an exciting, colorful and impressively score. How free your hands were when selecting the style and the intonation of this music?
I wrote the songs and score for the Sony/Playmobil films. The
Secret of Pirate Island
was a pirate adventure for kids, so I wanted a swashbuckling fun score. There were skeletons on the pirate island, so Oingo Boingo
[Danny Elfman's former band – the editor]
and Amile were influences.
Which has been your most memorable works?
I am very proud of scores for
Butterfly Circus
and
Walking with the Enemy
. They are films that deal with powerful human issues and dramatic storylines. I find I have to dig a lot deeper and get more personal with those scores. I always have to try to break up those kind of films though with a schedule that includes action or comedy in order to give myself a change of pace and time to recover.
You have a blog on your official website. How important are the contact with the fans?
I always love hearing from fans. It always surprises me sometimes how far reaching the entertainment industry can be and I'm always so grateful when something connects with a listener. It's one of the main reasons for being an artist!
Do you keep track the career of your colleagues?
I try to listen to everything that comes out. I love hearing new approaches and instrumentation. Without a doubt, my favorite composer is
John Powell
. I think he is one of the most versatile and gifted composers writing today. He makes it look easy!
To know more about Timothy Williams's work, please visit the composer's official website.