World famous cellist Tina Guo has worked with a lot of symphony orchestras as well as composers like Hans Zimmer, John Powell or John Debney (for example the recording session of
Inception
,
X-Men: First Class
,
Clash of the Titans
,
Sherlock Holmes
or
Iron Man 2
). She was a contributing artist of the Havasi Symphonic concert in 2013, and she'll return to Budapest with the live tour of Hans Zimmer in May. We asked her about career, musical performances, film music, and her other future plans.
First let me congratulate you for the Artist of the Year win in September. What things would you still like to achieve?
Thank you! I'm grateful for all the experiences I've had in different areas and genres of music: playing Concertos in classical concert halls to freaking out in metal clubs, to running away with the circus and living out of a suitcase for two years straight! I would love to continue making music, expanding my knowledge in different genres, and collaborating with as many people as possible! 2016 is very exciting as I have a lot of concerts and collaborations lined up that I know I'll learn so much from.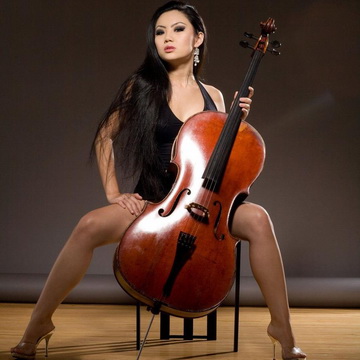 Can you tell us about how you started in music, what lead you down this path?
My parents are both classical musicians so it just happened naturally where my parents taught me music – I started on piano at age 3, violin at 6, and finally cello when I was 7. I considered studying business or medicine but in the end I had spent so much time practicing cello (and was offered full-scholarship tuitions to study cello) so I went with cello. I guess it was a practical and a musical/artistic reason!
You also play the traditional Chinese instrument the erhu, though your name has become synonymous with the cello. Why did the erhu end up in second place?
I just started playing Erhu casually a few years ago when I was asked if I knew how to play the instrument (I didn't! [laugh]) for a piece in a performance with the Golden State Pops Orchestras that needed an Erhu soloist. My motto is always say yes – and I found an Erhu online, had it shipped overnight, and practiced for hours every night for two weeks until the concert. Thankfully the part wasn't incredibly complicated, and I'm grateful for that opportunity which pushed me to learn a new instrument.
Is it hard to decide which song gets a video?
I don't think about it too hard, whatever feels natural or gives me sudden inspiration. I would love to do videos for all my music of course! It's a lot of fun getting to play dress up.
How did you come up with the idea to sing a duet with a non-existent twin in the "Twin Bees - Flight of the Bumble Bee" video?
It was random and sudden inspiration – I thought it would be funny! I recorded it in 2 takes and made a video for it immediately after that in the living room. I recorded it free time without click, but it seemed to stick together for the most part although at the end it gets a little wonky. The speed is so fast though that it's hard to hear, thank God.
You have worked with such soundtrack composers as Hans Zimmer, John Powell, John Debney, Brian Tyler, Bear McCreary. How did you come to be a part of the world of scores?
I started while I was in college at USC playing on student film scores, and got some opportunities also through composers seeing my concerts and by word of mouth. Also, my music videos and constant Facebook self advertising led to more awareness and it happened gradually but organically over the past decade.
In case of the film music, do you record your part separately or with the whole orchestra?
Usually it's recorded separately. I'd love to record with a full orchestra too sometime! Usually it's easier to get parts individually and mix everything afterward however.
Do you have any favorite scores apart from ones you have worked on?
Memoirs of a Geisha
is really beautiful, I also loooooove the love theme from
Blade Runner
. So romantic... I became obsessed with it after watching the movie for the first time. So rich, lush, sexy, and simply perfect.
You have covered many soundtracks theme including John Carpenter's classic piece for the film Halloween, but there was also "The Rains of Castamere" for Game of Thrones. What do you base the decision on to cover a piece?
I love
Game of Thrones
and a friend suggested that I cover that piece- I also covered the main theme from the show. For
Halloween
, my husband Ray suggested I do that piece when I asked him if he had any thoughts on what video I should release for the month of October that was Halloween related. It really depends, sometimes it's suggestions from others, other times it's just whatever strikes my fancy at the moment.
You have many solo albums. How do you balance your solo career with the many scores you work on or the work you do with touring musicians?
I just do what I can with the time I have- when I'm at home and not touring, I try to write and record. I do a lot of session work when I'm home in Los Angeles, but when I'm not working for other composers or artists, I have the freedom and time to work on my own music. The timing always works out, and I'm a big believer that if you put your intentions on something, the universe will always present the perfect situation / timing / solutions. I love the diversity of projects I'm involved in and constantly changing schedule. I get bored of doing too much of the same thing so going between my own projects, practicing classical music, collaborations with other artists, recording projects, live shows- it's the perfect ever-changing balance.
Not too long ago you performed in Budapest during the Havasi Symphonic event. How did you come to be involved in this?
Havasi saw me perform at the Budapest Sports Arena (where we also performed together at his show) with the
Michael Jackson: The Immortal World Tour
by Cirque du Soleil and emailed me to invite me to perform with him.
How did you like visiting us? Did you get a chance to sightsee?
I've been to Budapest a few times and it's a gorgeous city! I would love to have more time to explore, but in total I've probably spent about 3 weeks in the city. I remember that I accidentally left a charger at a hotel and went back 6 months later on another tour and was so impressed that the charger was still there in an envelope with my name on it! That's really random but in all seriousness everyone I met in the city was beautiful, warm, and kind. I'm excited to go back with Hans this year!
So, you go on tour with Hans Zimmer. When will you start preparing for this tour?
We start rehearsing end of March, I'm very excited! As of now I don't have the sheet music yet but I'm sure we'll get it all prepared during rehearsal period.
Hans Zimmer in the Live on Tour trailer speaks about how he felt stage fright for a long time. Do you still feel anxious before a live performance?
I do feel jittery before a live performance- the adrenaline, excitement, anxiousness kick in, but if I'm not nervous before a performance it's a bad sign and means I don't care! Usually when I walk on stage and start playing, the nervousness fades away. It's a nice build up to the big release.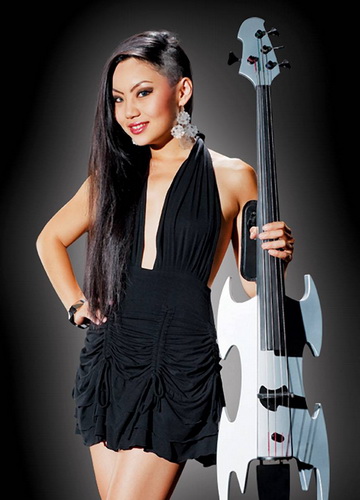 As a solo musician you are the star of the show. Is it easier when lots of musicians surround you, like when you performed music from Battlestar Galactica with Bear McCreary?
I think playing with other musicians allows for much more variation and interplay, which is incredibly interesting and exciting. I love the music from
Battlestar Galactica
and those shows I did with the BSG Orchestra I will never forget! Tribal and visceral and sexy – Bear's an amazing musician and composer.
How many hours a day do you practice the cello?
Not enough! Maybe 1-3 depending on my schedule, 4-5 if I'm preparing for a big classical concert or have a lot of music to learn in a short amount of time.
Would you consider composing film music alone?
Yes, I would love to do more of it! I've written music for some trailers, personal projects/albums, short films, and was an assistant composer on a feature, but would love to expand into full film composition.
You directed the "Forbidden City" video together with Ian S. Takahashi. Do you have any film direction goals or was this just a little detour?
I've directed all my videos after the "Forbidden City" video which was done about 5 years ago. Ian is an amazing Director of Photography and I had fun working on that project together! He was also the DP on my "Queen Bee" video, which is how we met. I'm self managed and do my own negotiations and everything else related to my career. I'd be open to directing other projects or helping with the business side of things for other musicians / artists – never say never!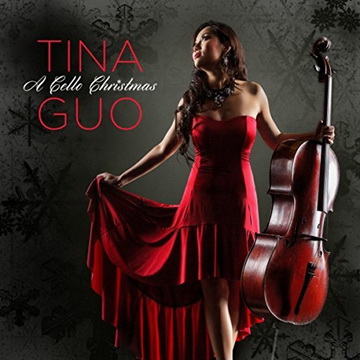 Many solo artists and musicians release a Christmas album during their career, in your case this was the A Cello Christmas. Did you fear that this album would get lost amongst the many Christmas albums?
I don't make music thinking about if it will sell or if there's too much competition as that would be too stressful and not natural to the creative process. For me making music is a personal exploration and expression, and if people like it, I'm so honored and grateful, and if they don't, it's okay too because I did it for myself. Every kind of music on every instrument and genre has pretty much been done already so it's best to just focus on the pure process of music making. If there's a way to advertise and market it, that's great, but sometimes we can also make music just for the sake of it. Speaking of that, the great thing about Christmas music is that it becomes relevant again every year when the season rolls around!.
The cross-over style is very popular, one of its most famous representatives being Lindsey Stirling, whose song "Crystallize" you covered. Do you not consider her (and similar others) competition?
The world is a big place, and there is room for everyone. Lindsey has an amazing product and has really hit a big market with the timing of her YouTube development and advertising, and her unique dancing / violin combination. She and I have some overlapping audience but honestly it's a benefit to my career, not competition as the more love there is for string players, the better it is for all of us. I love "Crystallize"! I've wanted to make a video for that song too but still have to figure out how to go about it.
As a frequent participant on scores are you able to sit back and listen to other soundtracks?
Honestly I spend a lot of my time making music and working in music, so sometimes I try to listen to something completely different (Rammstein is my favorite band, I also like to listen to old school R&B) or treat myself to the sound of silence which is often needed after being inundated with music all day long. I love watching TV and Films and noticing how the music interplays with the stories – it's a beautiful art form and one I'm very grateful every day to be a part of!
To know more about Tina Guo's work, please visit the performer's official website.