Marvin Hamlisch
had a long break after his last score for the romantic comedy
The Mirror Has Two Faces
in 1996, despite his famous film works like
The Swimmer
,
The Spy Who Loved Me
,
Sophie's Choice
or
A Chorus Line
. The multiple-award-nominee composer and songwriter returned to spotlight in this year with a gorgeous score for Steven Soderbergh's
The Informant!
, which nominated for Golden Globe.
You've been influenced by music since your very early years. Was it clear to you to be a film music composer or you decided it after the success of The Swimmer?
I think I was about 7 or 8 years old when I wrote my first song. Which was crap, but I wrote it. Then around the age of 15, I started writing my own music. I was a recording assistant for
Funny Girl
, so of course Julie Stein meant a lot to me. He's a great, great man and a wonderful composer. Of course, the first time any composer ever hears
West Side Story
, that will influence you. I would have to say that Julie Stein was one of my big influences.
Barbra Streisand is one of the most important person in your career, how did you meet each other, and what is your favourite work with her?
We met when I was on the rehearsal set of
Funny Girl
, and I'll never forget it. She came up to me when I was something like 19 or 20 years old, and she said "You know, you talk faster than Liza Minnelli.". Those were her first words to me. She's been very important in my career, and she's provided some great musical memories. It's interesting – the night before you record a singer, you imagine in your head what they will sound like. You put on those headphones in your mind, and you think "That's what she'll sound like.". The thing about Barbra Streisand is: it sounds better when she does it. For real, better than it will ever sound in your imagination.
All the actors and actresses have a dream acting role in their mind, is there a same thing for a composer, too? Is there any specific film you would have loved to work on, or maybe a genre you haven't tried but would like to try your hand at?
Oh, I think so. One of the dreams has already come true, especially in
The Way We Were
. If you tell me that Barbara Streisand is going to sing a song, that's a dream. So, you know, pinch me again, will ya!
What was it like receiving your 8th Golden Globe nomination?
I'm very grateful to the Hollywood Foreign Press and very thrilled for this nomination. It means a great deal to me.
You are the only composer, who received all the biggest awards: Oscar, Emmy, Grammy, Tony, Pulitzer, Golden Globe. What are you thinking about these awards, and how do you feel: is there any chance for a young composer in these days to reach this level of regards?
Out of them all, to be honest with you, has been the award that I got from ASCAP, which is the Richard Rodgers Award. Because one of my favorite composers in the world is Richard Rodgers (who I actually got to meet) and who actually told me that he enjoyed
Chorus Line
. He is truly an iconic figure in my life and I was very happy to receive that award.
- Could you tell us some words about those scoreless thirteen years between The Mirror Has Two Faces and The Informant? Did you have disenchanted the making of films, or simply there was no good project or challenge to you?
I got very busy with a lot of concerts. I'm a concert director for many orchestras, and I've been very lucky to work with some great directors in my lifetime. Particularly George Roy Hill, Sidney Pollock, Allan Pakula, and people like that. I just felt like it was time to do other things, and I got involved with some Broadway shows, and one thing lead to another.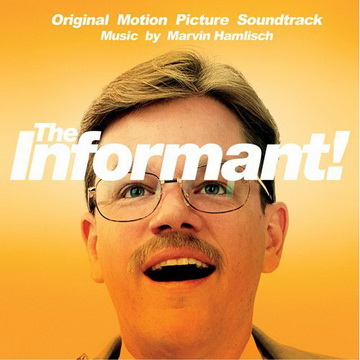 How did Steven Soderbergh get you back to film business and what did you feel about composing for a new Hollywood production again?
Interestingly enough it's because of Bananas that I got the score for The Informant! Because when Soderbergh was working on
Che
he took some old DVDs with him to the shoot. One of them was "Bananas", and he loved the recording. The excitement and the fun of it. He asked one of his people "Who did that score?" and someone said "Marvin Hamlisch". I am very happy about
Bananas
.
The Informant! was set in the '90s. Was it the director's or your idea to create a musical background reminding of the '60s and '70s.
Once I had done about half the film, I showed him a few cues to see what his reaction would be. I purposely didn't try to stay in any particular time, but I also didn't try to make a point of going back further than he goes back, because I thought it was going to be restrictive to the comedy.
Your music for The Informant! is a very rich, complex and funny score, using a lot of instruments and scoring methods that we can't find very often in film music of recent days. What do you think about this, it needs more time, more money, maybe more talent and education to compose such a colorful score?
First of all, there hasn't been a film like
The Informant!
for a long time. I mean, it's a very kind of black and white film, if you know what I'm saying. It's a really cool comedy. These films today, whether they're Transformers or vampires or the end of the world, don't call for the kind of unique range of a score like this. What iced it for me was the desire to have this range. Every note in this score is written out hodgepodge, but it's written out. I mean, I wanted it to be a hodgepodge of stuff, but every note has a purpose.
To know more about Marvin Hamlisch's work, please visit the composer's official website.
Special thanks to Melissa McNeil
February 08th, 2010